Barksdale GmbH REICHELSHEIM /Wetterau, Germany

Barksdale is an ISO 9001 registered manufacturer of controls for industrial applications, specializing in the control and measurement of fluids. As a subsidiary of Crane Co., Stamford, CT, we have the financial resources of a large company, while our size allows individual customer partnerships. Founded in 1949, we are based in Los Angeles, CA, have a manufacturing facility in Reichelsheim, Germany and distributors around the world.Many industries use a variety of Barksdale's product lines. E.g. in mobile- and stationary hydraulic systems: from hydraulic clamping in machine tooling, hydraulic steering systems off highway loaders or load monitoring on crane support struts to vertical cargo lifts and elevators.
MT1H, T2H
UNS-VA/SB5 or B4
Presentation: www.barksdale.equip4ship.com
Address: Germany, REICHELSHEIM /Wetterau, 61203 Dorn-Assenheimer Str. 27
Contact person: Commercial Department ,e-mail, website
Phone: +49 60 359490
Fax: +49 60 35949111

unselect all/select all
You have 0 products selected
Level Switch
Send enquiry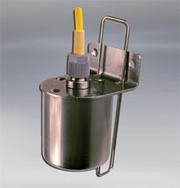 Marine approved Bilge level switch with slosh shield. Stainless steel switch for lateral mounting applications.